All in all, last night was my favorite kind of weekday night game. Room in the stands (maybe 30K in attendance as a wild guess), quick game, warm night, no bathroom/concession lines, no wait to get on the 7 back to Brooklyn (I even had a relatively quick switch to the G, a minor miracle), cheap seats (five bucks at the gate for Section 6 upper box).
Oh yeah, and we won.
Maine was quietly effective and lasted into the eighth, which Feliciano finished, and then Burgos didn't quite ruin it, walking three to load the bases but getting out of it unscathed.
I almost didn't go, but it provided a nice excuse to get out of playing in my company's first softball game of the season (why do I want to get out of it? A few reasons, but I'll leave it at this: Randall's Island). And I'm glad I did. A classic "This is what it's all about!" game.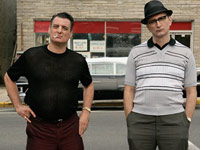 And now, a few links:
So, how often do we get to play the Rockies?