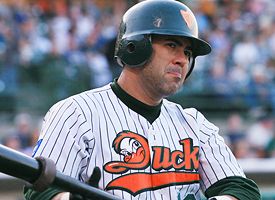 Jeff Pearlman
profiles
the Long Island Ducks, the unaffiliated minor league team that's come to serve as a graveyard for ex-major leaguers who are still trying to get back to the bigs (and which happens to be co-owned by none other then Bud Harrelson). Their most infamous recent member has to be John Rocker, but it's a trip—albeit a depressing one—to see who's on the team now:
Edgardo Alfonzo
Lance Davis
Todd Erdos
Carl Everett
Danny Graves
John Halama
Jose Offerman
Donovan Osborne
John Riedling
Damian Rolls
Pete Rose Jr.
Mark Watson
Ed Yarnall

It's a good read, if a little melancholy given the nature of what it's covering: aging ballplayers who to a man believe they deserve to be back in the show, and who think they're only a phone call away from stepping right back into their former glory, or at very least their former mediocrity. The only one who seems to have any perspective on things is Yarnall, who poignantly recounts being so overwhelmed as a 23-year-old candidate for the Yankees' fifth starter job that he lost control of first his stuff and then his career:
The Yankees traded him to the Reds, the Reds released him, he signed with the A's, was released by the A's, signed with the Red Sox, traded to the Phillies, released by the Phillies, signed by the Nationals, let go by the Nationals, so on and so on. "I played two years in Japan, which was smart because the money I made was excellent and gives my wife and I some security," he says. "But I had to give this one final shot before I move on with my life."
Obviously it's more than a little strange to see Edgardo Alfonzo's name there. At only 33, he's not as obviously past it as the 38-year-old Offerman, for example. But he struggled so much with the Giants and then fell off the radar last season with the Blue Jays and Angels. Of all these guys, it seems that he and Damian Rolls have the best chance to actually make it back. He was my favorite 2000-era Met, so I'll be pulling for him.
My favorite random note from the piece is that Harrelson is not only the Ducks' co-owner, he's also the first base coach. Welcome to the Atlantic League.
These Ducks are waiting for "the call"
[ESPN.com]